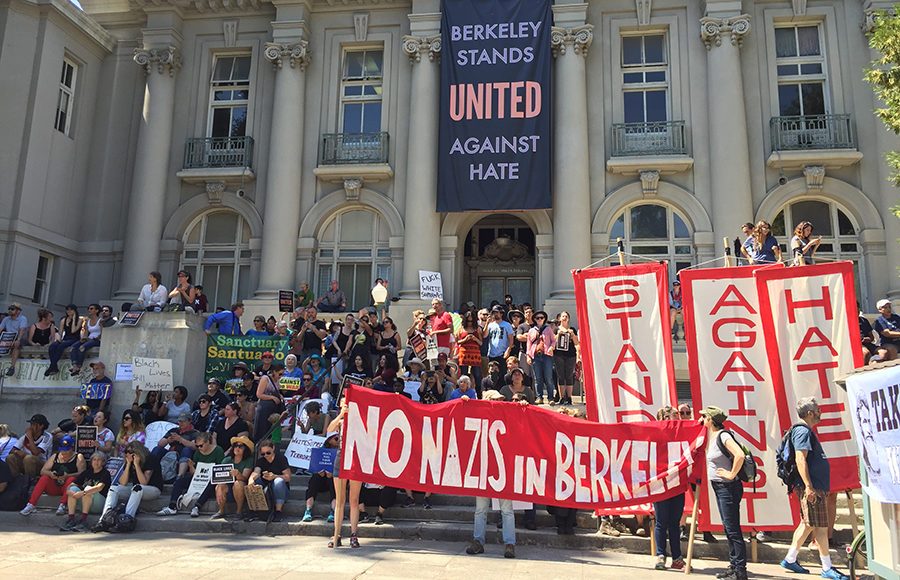 City officials throughout the Bay Area have declared November 11-18 to be a "United Against Hate" week. As Berkeley mayor Jesse Arreguin states, "Berkeley and many other Alameda County cities will convene rallies, film screenings, art projects, etc. to learn ways we can effectively stand up to hate groups and make sure hate finds no home in the Bay Area. The goal is to give communities an opportunity to learn from one another, address specific hate crime incidents and above all, seek ways to stop hateful rhetoric from spreading." (1) The organizing for the events are being done by a group called "Not in Our Town" (NIOT), a non-profit organization that is composed of a variety of ex-law enforcement officers, activist techies, and the reformed white supremacist founder of the Hammerskins, Arno Michaelis.(2) Reducing the issue of power and oppression to an emotional response (hate) or to isolated attacks obscures the institutionalized racism that the state requires for its functioning. This watered-down rhetoric about combating "hate" and singular attacks of prejudice is an attempt by the state and civil society to regain control of a situation that has become increasingly uncontrollable.
Here, we are not trying to minimize the trauma caused by white terrorism; we are merely pointing out the efficiency and intensity at which the state accomplishes the same goals as their street-level counterparts. The statements of Berkeley's mayor are indicative of how the state must position itself as being the sole creator of legitimate political movements: "When members of white supremacist groups began a campaign to hold rallies in Berkeley and Oakland, California, a group of community leaders came up with a way to make a statement that neo-Nazis, their hatred and their ideas were not welcome in the East Bay." This statement is blatantly false. Throughout the anti-fascist struggle in Berkeley, from February 1, 2017 when Milo Yiannopoulos' speech was brought to a screeching halt on the UC Berkeley campus, to the more recent street battles on August 5, 2018, the city of Berkeley has arrested and jailed over 80 protesters who have stood up against Nazis in Berkeley. Jesse Arreguin has even gone as far as to suggest to policy-makers that "Antifa" be designated as a gang (3), so as to use the same tools of repression already used on youth of color on anti-fascist protesters, who have been the only real obstacle to the encroaching fascist creep.
This is still only the tip of the iceberg when it comes to Bay Area state repression against anti-fascists: consider the arrest of Eric Clanton, charged with 4 counts of assault, which involved raiding a house and used evidence compiled almost exclusively from far-right sources like 4chan (4), or the release of almost all 20 anti-fascist arrestees' faces, names, and ages in almost real-time during the August 5th demonstration(5). It is also well documented that others in the Berkeley city government have had direct communication with far right-groups responsible for acts of violence in the city of Berkeley and elsewhere. Take the emails passed between Proud Boys member Jarod Flores, his associate Ryoga Vee, and Councilmember Ben Bartlett, whereby Bartlett advises on public image messaging in order to help clean the Proud Boys racist public image (6). So by what means is the mayor of Berkeley and other city officials sending the message that "neo-Nazis, their hatred and ideas are not welcome" here? Clearly it is by repressing those who have put their lives and freedom on the line to fight back against fascism. In reality, what the mayor and the rest of civil society are doing is desperately trying to hold on to authority that is slipping through their fingers. When the streets become the battleground for political power, it takes power from the hands of the "acceptable" avenues of the ballot box or city council meetings. None of the participants in NIOT nor the city officials of Berkeley, with the immense resources of society behind them, lifted a finger in support of or in solidarity with anti-fascist struggle. They in fact did everything in their power to disrupt and intimidate that movement. We must not allow power-hungry city officials to not only repress us on the one hand, but also claim ownership over our movement on the other, and meanwhile collaborate with known local fascists.
In the wake of recent instances of right-wing, white supremacist violence, particularly the Pittsburg synagogue Tree of Life shooting that claimed 11 lives, and reflecting on the past few years where emboldened white nationalists have led up to yet another shooting, the scope and intensity of struggle is as serious as ever. For those of us in the anti-fascist/anti-racist movements in the US, we must take seriously the trajectory of our movements – our collective survival depends on it. It is for this reason that a thorough understanding and critique of the state's maneuvers to harvest the political capital made by our movements is necessary in order to stop institutionalized white supremacy, and as a result, take the wind out of the sails of street-level white terrorism.
1.) https://www.niot.org/blog/berkeley-calif-mayor-unite-against-hate-november
2.) https://www.niot.org/about-us
3.) https://www.newsweek.com/berkeley-mayor-calls-antifa-be-classified-crime-gang-after-clashes-sunday-656286
4.) https://www.vocativ.com/news/434611/4chan-doxxing-arrest-eric-clanton/index.html
5.) https://www.theguardian.com/us-news/2018/aug/06/berkeley-activists-arrested-police-identified-twitter
6.) https://nocara.blackblogs.org/wp-content/uploads/sites/273/2018/09/ry6.png