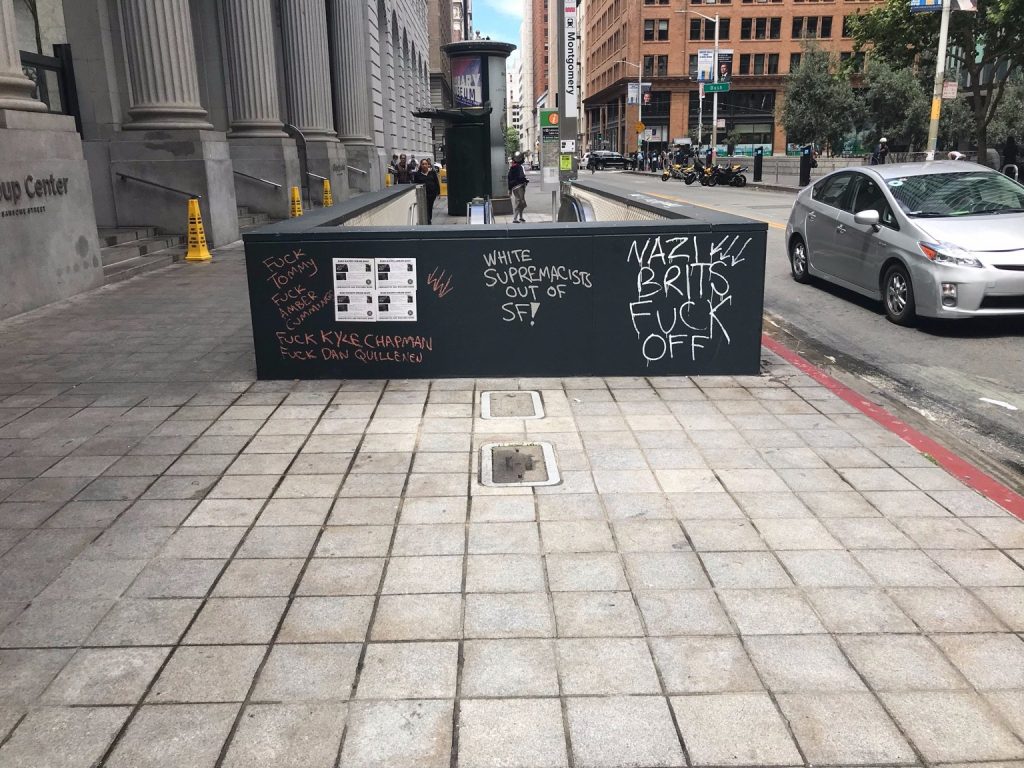 On Friday, July 6, a report was published detailing a handful of rallies being planned by the Bay Area far-Right in the next several weeks. The first of these events was to be a rally outside of the British Consulate in San Francisco on Saturday, July 7. Organizers chose this location because they intended to show support for Tommy Robinson, the founder of the militant and racist English Defence League (and once a member of the white nationalist and fascist British National Party) who is currently jailed in the UK.
The day did not start off well for the Right, who showed up late to their own event. Despite almost 200 people marked as "going" or "interested" on the Facebook event page, the rally peaked at less than 25 people. The small group consisted of a regular cast of local far-Right agitators that have repeatedly shown up to rallies around the country, engaging in violence and helping to mainstream overt white supremacy. When the Tommy Robinson supporters arrived, they found the area decorated with posters and graffiti showing solidarity for immigrants and opposition to racism.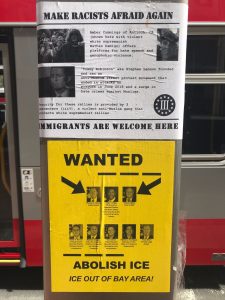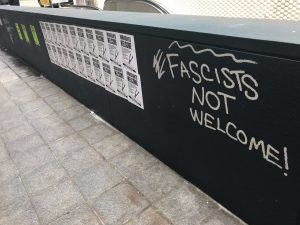 Organizer Amber Cummings assured attendees that security for her event would be provided by III% militia members. The III% and Oath Keeper militias have been providing security for far-Right and Alt-Right "free speech" rallies for the last year and a half, protecting traveling white supremacists from local community backlash. Lindsay Grathwohl said she hadn't met the security crew and wasn't sure if they even showed up because she didn't see them during the event. Militia members did in fact show up to provide security, but were seen getting on BART and ditching Amber Cummings and her supporters well before the event ended.
In anticipation of possible right-wing violence, the nearby occupation of ICE in San Francisco was bolstered by local supporters to defend the occupation and the community. While only relatively small groups came over to confront them, the Right knew they were ultimately outnumbered and vocalized their disappointment in how the day's events played out, leading them to consider ending the rally early.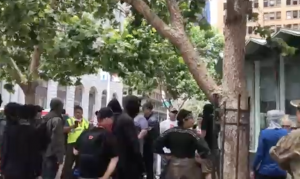 One confrontation at the rally ended with Jeanne Solnordal being sprayed with her own pepper spray after she tried attacking anti-fascists. Other than that, the event was largely uneventful and poor organizing left this small bunch of racists demoralized. The rally ended with prayers for Tommy Robinson and Kyle "Based Stickman" Chapman, who was recently arrested for assault with a deadly weapon. Event participants appeared to share in common both Islamophobia and a hatred for immigrants. The same people are planning more upcoming events in the Bay Area and have been trying to draw in more people by boasting about their violent acts at this July 7 rally. Details on those events are at the bottom of this article.
Amber Cummings, 44, Antioch
Amber Cummings has been one of the more violent and committed far-Right organizers in Northern California. She has participated in violence at right-wing events on the west coast since March 4, 2017 in Berkeley. Last year, she called for a rally 'Against Marxism' in Berkeley, which was ultimately cancelled and countered by thousands of people. Before her San Francisco rally on July 7, Cummings was in Portland on June 30, where she tackled another right-wing activist, mistaking them for an anti-fascist. Amber Cummings has close ties to other local far-Right organizers including Kyle Chapman and Lindsay Grathwohl.
Lindsay Grathwohl, 40, San Lorenzo
Lindsay Grathwohl is the daughter of Larry Grathwohl, the FBI informant who infiltrated the Weather Underground. She has been attending far-Right events along the west coast since 2017 and organizes closely with Kyle Chapman, Amber Cummings, and Joey Gibson/Patriot Prayer. In December 2016, Grathwohl called for an anti-immigrant rally in San Francisco following the acquittal of Jose Ines Garcia Zarate in the shooting death of Kate Steinle. This rally was attended by members of the III% militia, the Proud Boys, Identity Evropa, and failed neo-Nazi senate candidate Patrick Little.
Brian Rosner, 42, San Lorenzo
Brian Rosner came to the rally with Lindsay Grathwohl, who he lives with. During the rally, he was wearing one of the Tommy Robinson shirts that Grathwohl brought with her. When the rally was confronted by anti-fascists, Rosner was asked if he supports the EDL (English Defence League), which was created by Tommy Robinson. Rosner's response was "I don't know what that is," showing complete ignorance about the person he came to San Francisco to pray for and whose face was featured on the t-shirt he was wearing.
Kevin aka "Based Commie"
Kevin is called "Based Commie" because he grew up in Russia. Kevin has attended several far-Right rallies on the west coast in 2017 and 2018. He often brings a "Pepe" flag, a common symbol used by the Alt-Rght. Additionally, Kevin frequently invokes and celebrates Rhodesia. Located in what is now called Zimbabwe, Rhodesia was an unrecognized state in south Africa from 1965-1979 ruled by the racist white minority following decolonization. Dylan Roof, the white supremacist who murdered 9 people in a South Carolina church in 2015, wore the flag of Rhodesia on his jacket and called his website "The Last Rhodesian." Kevin has made Facebook posts showing interest in Rhodesia and has worn clothing celebrating Rhodesia and the mass murder of communists. Other social media posts by Kevin reveal his Islamophobia and show his affinity with Anders Behring Breivik, who was convicted of mass murder and terrorism after killing 77 people in Norway in 2011. In court, Breivik performed a Nazi salute. Despite Kevin's praise of racist mass murder, he is consistently welcomed at public and private events organized by Amber Cummings and others in the local far-Right movement.
Jeanne Marie Solnordal, 60, Piedmont
Jeanne Solnordal attended several far-Right events over the last year before recently running a failed campaign for Congress in the last election. Solnordal is very vocal about her anti-immigrant views. Along with Lindsay Grathwohl, David Carson, and others, Solnordal went into Oakland last May to harass the coffee shop Hasta Muerte, and she threatened to have the police and ICE come to deport people. At other times, she has gone into homeless encampments in Oakland telling people that their problems can be blamed on immigrants. As we pointed out in a previous article, Solnordal is a lawyer and co-owns Marsol Management Group along with her husband Borgar. They own several properties in Oakland and the surrounding Bay Area. Solnordal came to the Tommy Robinson rally armed with pepper spray, which she told Lindsay Grathwohl was the most powerful spray you can buy on the market.
David Carson, 39, San Francisco
David Carson could be heard on video telling others that he lives only 3 blocks from where the Tommy Robinson rally was being held. He came armed with pepper spray and had a camera strapped to his chest, similar to how he prepared to scare and intimidate an Oakland community when he joined Lindsay Grathwohl, Jeanne Solnordal, and others outside Hasta Muerte back in May of this year. During an altercation at the Tommy Robinson rally, Carson used pepper spray on his own allies. Inexperienced and eager to jump in, Carson has been indiscriminate with his violence. Carson tells people he isn't racist or political, but somehow consistently finds himself opposed to those fighting racism and fascism.
Jessica Bowen, 67, Alameda
Jessica Bowen works in occupational therapy for Sava Senior Care. On Facebook, Bowen's "likes" include the pages for Paul Nehlen, VDare, and Taki's Magazine. Nehlen is a neo-Nazi business owner in Wisconsin currently campaigning to replace Paul Ryan. VDare, run by Peter Brimelow, is a racist anti-immigrant website associated with the white nationalist movement, and Taki's Magazine is a conservative publication once edited by Richard Spencer, the white supremacist credited for coining the term "alt-right" and a featured speaker at the deadly Unite the Right rally in Charlottesville last August. She also signed and shared a petition in support of Kyle Chapman calling for the charges against him from March 4, 2017 to be dropped. Bowen attended Lindsay Grathwohl's anti-immigrant march in San Francisco in December 2017, where she can be seen on video marching next to Amber Cummings and Jacob Ku, the man who accompanied Proud Boy Rob Cantrell outside a bookstore in Berkeley when Cantrell threatened to burn down the store. At the July 7 rally, Bowen was given a shirt by Lindsay Grathwohl celebrating Tommy Robinson and wore it during the event.
Stephen Powles, 29, San Jose
Stephen Powles has been documenting and participating in far-Right rallies up and down the west coast since March 4, 2017 in Berkeley. He posts recordings and livestreams to his YouTube channel under the name Crowman17. Powles usually shows up to events wearing the same unmistakable outfit, displaying the symbol for the neo-Nazi 4chan message board /pol/, which is nothing more than a remake of a Nazi Germany flag consistent with the Alt-Right's strategy of obfuscation.
Alejandro Montalvo, 20, San Jose
Alejandro Montalvo is friends with Stephen Powles and frequently accompanies him to rallies and marches. In Powles's videos, Montalvo is referred to as "Alex Gold" or "Mr. Gold." Montalvo's Facebook displays his support for Donald Trump, Hitler, and Elliot Rodger, the Alt-Right killer who murdered 6 people and injured 14 others near UC Santa Barbara before killing himself in 2014. At the Tommy Robinson rally, Montalvo suggested to Stephen Powles and Theri Rowen that they should "buy a bunch of Karl Marx books and then burn them." After Powles and Rowen laughed, Powles responded with "A good old-fashioned book burning. That'll attract some attention."
Stephanie Oliver, 48, San Rafael
Stephanie Oliver was first noted by NoCARA in this article from June 2017. Oliver has been a regular at local far-Right rallies and gatherings since March 4, 2017 in Berkeley. After the Charlottesville, VA neo-Nazi rally last August, Oliver deleted her tweets from before the event in an effort to sanitize her online image and distance herself from the consequences of the very movement she helped to build. Her account calls to "make women housewives again."
Kevin Ahajanian, 47
Kevin Ahajanian has attended multiple far-Right events in Northern California. He drives a 2014 white Ford Fiesta with the California license plates 7EXU987. Ahajanian parked the car on the corner of Sansome and Pine while he attended the Tommy Robinson rally.
Marco (44) and Michael Gutierrez (25), Discovery Bay
Marco Gutierrez and his son Michael have come out to far-right events since early 2017. Marco is the founder of Latinos for Trump and warned there would be an invasion of taco trucks in the United States if Hillary Clinton were to become the president. Michael, his son, has been active on YouTube for years as Pokeflirt doing videos catering to the misogynistic online community known as the "manosphere."
Aleksey Nikolaevich Semeryuk, 54, Sacramento
Regularly attends far-Right rallies and events. At the Tommy Robinson rally, Aleksey Nikolaevich was dressed in gear that implied he was expecting to fight.
Bill Roller aka "Bunker", 70

Bill Roller is the national coordinator for 2 Million Bikers and frequently supports far-Right organizing.
Theri Rowen, 34, Richmond
Theri Rowen has been supporting and attending far-Right rallies in the Bay Area organized by racists and fascists since early 2017.
Alana Mirabella, 56, Lafayette
Alana Mirabella has been attending and supporting far-Right organizing since at least early 2017 and has shown up to several events.
Patrick James Porcuna, 29, South San Francisco
Regularly attends far-Right events in the Bay Area that show sympathy with white supremacist causes.
Ryoga Vee, 38, Sunnyvale
Ryoga Vee says he considers himself a liberal but regularly shows up to support far-Right rallies. Like Jeanne Solnordal, Vee scapegoats immigrants and spreads right-wing propaganda about them victimizing African Americans in the United States. Earlier in 2018, rapper Talib Kweli called Vee out on Twitter for lying about anti-fascists and supporting a racist that had been harassing Kweli.
Simi Singh
Simi Singh operates the YouTube channel Very Fake News, and has been documenting far-Right aggressions up and down the west coast since early 2017.
List of far-right rallies coming up in the Bay Area:
Standing against Communism
August 4, 1-4pm
Union Square, San Francisco
https://www.facebook.com/events/1989344121315091/
No to Marxism in America 2
August 5, 4-7pm
MLK park, Berkeley
https://www.facebook.com/events/201325827321201
Patriots Rally Against Pedophiles in SciFi
August 18, 1-4pm
San Jose McEnery Convention Center, San Jose
https://www.facebook.com/events/479274785823669/
If you have any information on fascist organizing in Northern California, please contact us at nocara@riseup.net