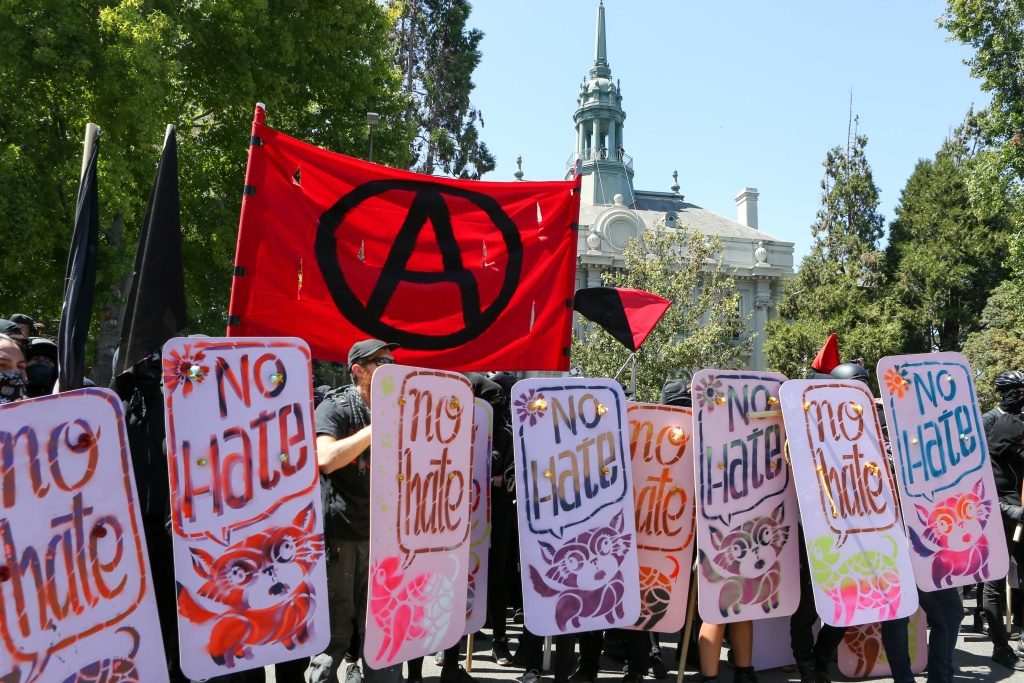 On August 5, Amber Cummings will hold a "No to Marxism in America" rally in Berkeley. Amber Cummings has been one of the most violent participants in local far-right gatherings. Several factors, including attempted coordination with other events and internal disagreements, have caused Cummings to frequently reschedule the start time of her rally. As of this writing, the rally will be from 12pm-2pm in MLK Civic Center Park in Berkeley.
It was revealed in the lead up to this event that co-organizer Lindsay Grathwohl received $5,000 from Alex Jones with which Grathwohl announced she would buy new equipment for the rally. Moreover, Cummings and Grathwohl were coordinating with Patriot Movement AZ and American Guard, a white supremacist group with ties to murders and other violence.
Though Amber Cummings claims to not want racists attending her event, she clearly seems either unwilling or unable to discern who the racists at her events are. Despite her rhetoric, Cummings still chooses to rally with people like Kevin the "Based Commie," who advocates for the mass murder of Muslims and idolizes the mass murderer Anders Behring Breivik, who killed 77 in Norway and performed a Nazi salute in court. Sacramento Proud Boys leader Gabe Silva, who recently called for war in Portland and threatened political opponoents with unprovoked violence, briefly announced he would join Berkeley after the far-right rally in Portland on August 4. Patriot Prayer leader Joey Gibson also announced he would travel to Berkeley on August 5.
In anticipation of fascist provocations in Berkeley on August 5, we've created flyers to help people identify alt-right agitators that have come to Berkeley in the past and may show up again. Share these online, or print them out and bring them to the counter protest against the fascists so others can stay informed. Another helpful resource to review are these tips for staying safe while protesting the far-right. It is unclear which far-right groups will keep their promise to show up or not. Last year in Berkeley on August 27, Amber Cummings cancelled her rally and far-right goons still showed up to the park. The counter demonstration will go on regardless. Continue reading →